Today there is a new basic recipe for you, for a natural lemon aroma from lemon peel. It consists of only two ingredients and is basically just a great and practical way to use leftovers! ♥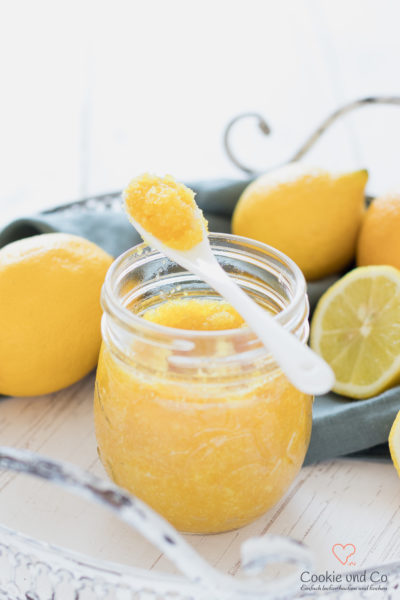 This lemon flavor is so easy and super quick to make that it's really not worth buying some. Apart from the fact that what is bought does not taste really good and aromatic! So far, I've preferred to use freshly grated lemon peel. But sometimes you don't have any fresh lemons in the house and so all you need to do is open the jar and take out some of this aroma. I have already done the same with orange peel, according to which I mean Orange syrup made from blood oranges had cooked. This is how the recipe for mine came about natural orange flavor. It is basically identical to this one. Ingeniously simple and simply ingenious. I have had the orange aroma in the 0 degrees compartment of the refrigerator for around 12 months and it is still just as aromatic as on the first day. It is particularly important that you only remove it with a clean spoon. I had also divided my orange aroma into several small, meticulously cleaned glasses.
This is how easy it is to use leftovers ...
I also find it really just a shame to throw away all the lemon peel that sometimes comes up. Lately I had quite a bit of lemon peel left over, after which I mean Lemon-ginger drink with turmeric and Lemon cake from plate had prepared. In addition, I still had lemons that had to go anyway. After squeezing, I just peeled off the skin very thinly. Theoretically, the peels could be dried just like that, but personally I don't really like them for flavoring. Because some of the essential oils evaporate when drying and with today's method, almost all of the aroma is retained.
This is how it works ...
In principle, all you need to do is chop the peeled lemon peel with the same amount of sugar in a mixer, and that's it. In principle, no real recipe at all. In this ratio, the aroma is also relatively neutral and not particularly sweet. Instead of the grated zest of a lemon, you can simply add one or two teaspoons of this aroma to your recipes without affecting the sweetness. The only important thing is that you use untreated lemons!
By the way, this aroma is not only great for Baking recipes, but also excellent as a flavor carrier in Desserts, Yeast pastries, Natural yoghurt, Semolina porridge or others Desserts... ♥
Print
LEMON FLAVOR
Print recipe
Share recipe
Category:


Basic recipe

Cuisine:


German - German
piece
1

Part of lemon peel (if possible without the white inner part)

1

Part sugar
I took:
100 g

Lemon peel (from organic lemons)

100 g

sugar
Instructions
Put the lemon peel and sugar in a mixer (or moulinette or similar) and grind to the desired fineness on the highest level.
If necessary, push down with a scraper in between and continue mixing. Complete.
Store in an airtight place in the refrigerator. The lemon aroma lasts there for 12 months.
PREPARATION IN THE THERMOMIX
Put the lemon peel and sugar in the mixing bowl and chop for 10 seconds / speed 10.
Slide down with the spatula and repeat. If necessary, repeat this process again.
Complete.
Store in an airtight place in the refrigerator. The lemon aroma lasts there for 12 months.
Keywords: Baking flavor, easy, quick, homemade, vegan, lemon flavor, lemon peel, lemon sugar